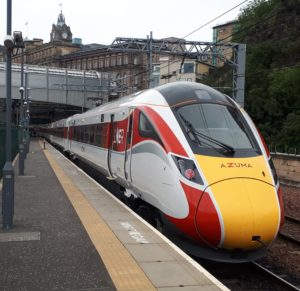 Paul Tetlaw has provided this update on the cracking problem discovered on Azuma trains in May 2021.
The LNER Azuma trains and Scotrail 385 electric units have both been affected by concerns over aluminium lifting points on the Hitachi built trains. These are used to lift the trains in the depot during routine maintenance and small cracks were discovered in the aluminium.
They are not part of the normal operation of the train when it is running in service but it was thought wise to withdraw trains from service until a full safety examination could be undertaken. This had a serious impact on LNER services for a number of days and also led to the shortening of Scotrail trains on some routes.
The good news is that services are now returning to normal and LNER stated that they expect to be able to run an almost full service from Monday 17th May.
Hitachi have committed to introduce a long-term repair plan for the affected trains and this will be overseen by the safety regulator.
To put this in a historical context problems with new train fleets and locos are nothing new. When the new electric Blue Trains were introduced to the Glasgow suburban services in 1960 the whole train fleet had to subsequently be withdrawn for eleven months following serious electrical faults. At the time it was fortunate that steam engines and older coaches were still available and could be brought back into use to maintain services.