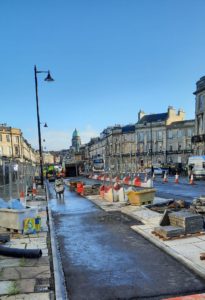 The image shows the construction of a new section of segregated cycle track along Melville Place in the west end of Edinburgh. This will join up with the new cycle tracks being laid to Leith alongside the tram extension.
Thanks to the work of Spokes and others over recent years that has seen the creation of a network of routes throughout the city using old railway lines, it will soon be able to cycle seamlessly and safely from the outskirts and into the centre from several directions.
Surely Edinburgh must be setting an example on greening its transport system through the development of the tram network and the cycle network.