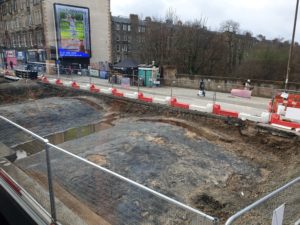 The short tunnel under Leith Walk at Shrubhill which has been exposed by the tram works gives a glimpse of the extensive northern suburban rail network that Edinburgh once enjoyed. The plan below shows the extent of the network once provided by the Caledonian and North British Railways. This particular line ran from Waverley to Granton and at it's peak had intermediate stations at Abbeyhill, Easter Road, Leith Walk, Powderhall and Trinity.
In1883 journey times from Granton to Waverley by train were a mere 13 minutes. By 1913 when all the intermediate stations were in use it took just 6 minutes from Leith Walk to Waverley including stops at Easter Road and Abbeyhill.
In later years all the stations were progressively closed but the line was retained for freight. The full line to Granton was officially closed in 1986 but freight traffic continued from Powderhall where compacted refuse was transported by rail to landfill sites. That traffic has now ceased and the refuse site adjacent to the former Powderhall Station is being redeveloped for housing.